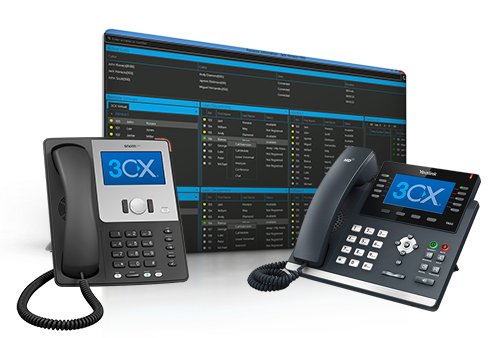 Evolve your communications and eliminate PBX headaches with 3CX Phone System Unify your communications with 3CX Phone System for Windows – an IP Phone System that completely replaces your proprietary PBX, supports standard SIP soft/hard phones, VoIP services and traditional PSTN phone lines. 3CX Phone System is far less expensive than a traditional PBX and can reduce call costs substantially by using a VoIP service provider. Its web-based administration makes phone system management easy. 3CX Phone System eliminates the phone wiring network and allows users to easily work remotely.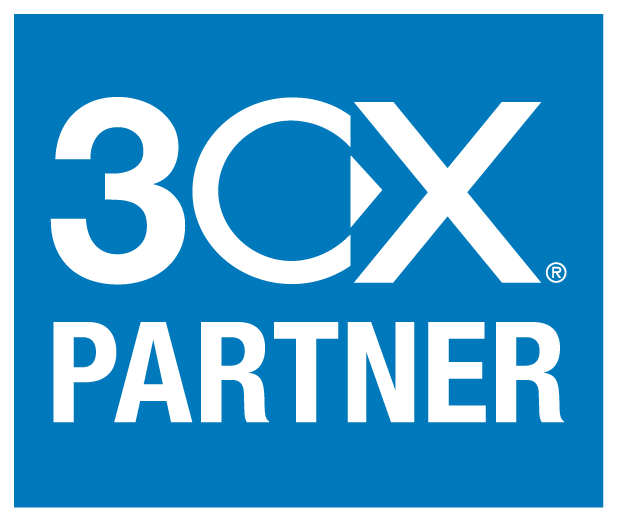 Overview:
Complete phone system – Provides call switching, routing & queueing
Purchase cost dramatically lower than a traditional hardware PBX
Scalable – Unlimited extensions and phone lines. No proprietary expansion modules needed!
Web based configuration & status indication – Easy phone system management!
Unified Communications – Receive voice mail via email & see user presence
Auto-Attendant (e.g. 1 for sales, 2 for support, etc.)
Reduce long distance and inter office call costs
No more expensive proprietary system phones – Use standard SIP phones
Eliminate the phone wiring and make moving offices easier
Easy call control, presence and extension management
Click to Dial & Call Pop-up for Microsoft Outlook
Receive & Make calls via the standard PSTN using VoIP Gateways or cards
Halve your phone bill by using SIP trunks, VoIP providers or Skype Connect!
Out of the box configuration for many VoIP Providers, VoIP Gateways, Skype™ and IP Phones
3CX VoIP Software Features List
General Phone System Features
Call Logging, Call Reporting
Blind Call Transfer, Attended Call Transfer
Call Forward on Busy or No Answer
Call Routing (DID) / Caller ID
Conference Calling
Auto Attendant / Digital Receptionist
Voicemail / Music on Hold
Ring Groups & Hunt Groups
Central Phonebook
Call Parking & Pickup
Call Queuing
Call Recording (Barge-in, Whisper, & Listen included in the Call Center Edition)
Dial by Name
MWI – Message Waiting Indicator
BLF Status Updates
Conference Rooms
Intercom
Paging
Management & Scalability
Web-Based Management Console
Configuration Wizard
Real Time Web-based System Status for Admin Users
Integrated Web Server
Automated Restore & Backup
Firewall/NAT Friendly Configuration of External
Remote Extensions via Tunnel
MS Windows Server Certified
Integrated Enterprise Database (PostgreSQL)
VMware / Hyper-V Compatible
On-Screen Softphones
Supports Windows, Android 1, iPhone 4.0, & Up
Manage Softphone from Management Console
Includes Tunnel to Avoid NAT Problems
Auto-Provisioning / Remote Configure
3CX MyPhone
Web-based Utility or Desktop Install
Transfer Calls
Shows Incoming Calls
Shows Caller ID
Shows Personal Call History
Divert Calls to Voicemail
Queue Monitoring
Shows Status of Other Extensions
Run as Presence Monitor with Desk Phone
3rd Party Application Integration
Microsoft Outlook Integration
Salesforce Integration
HTTP API to Integrate with any Web CRM
Microsoft Exchange 2007 Unified Messaging
Devices & Providers
Supports Popular IP Phones
Supports VoIP Gateways & cards
Make and Receive Skype Calls
Supports Popular SIP /VoIP Providers
SIP Trunking Support
Unified Communications & Mobility
MyPhone Self-Service User Portal
Receive Voicemail via Email
Make Video Calls
Advanced Forwarding Rules Based on Caller ID, Time, & Type of Call
Integrate Branch Offices with 3CX Bridges
Standards-based Presence Information
Integrated Fax Server
Receive Faxes via Email as PDF
IP Phone Management
Automatic Phone Provisioning
Remotely manage IP phones
Manage IP Phones Network-Wide
Plug & Play Support
Provision Network-Wide with Correct Settings
Restart one or all Phones Remotely
See & Update Firmware Network-Wide
---
The 3CX platform has been selected by leading companies worldwide to meet their Unified Communications and telephony requirements, these include:

A Complete 3CX Service from EvoSoft

When you choose EvoSoft as your 3CX provider, you'll get much more than just a new phone system. Our fully managed service means we can offer a comprehensive, end to end project management service for new phone installations, from site surveys and initial planning meetings to staff training and deactivation and removal of your old equipment.
As well as supply and installation, we can maintain and support your 3CX Phone System, keeping it fully updated and in optimum health to ensure the smooth running of your business. You'll also benefit from high quality customer service and 24/7 technical support from our fully-trained technicians and field engineers.
Our services also include ad hoc project work for installations, support or maintenance only.
[vc_message]
Find Out More & Arrange Demonstration
If you're interested in learning more about the 3CX phone system and how it can benefit your business, please contact
us today
for more information and to arrange a demonstration.
In the meantime, please download our brochure and view the pages / resources below to find out more about 3CX.[/vc_message]