a customised solution for your business!
We are much more than an I.T. support company, we are a solutions company providing I.T. project analysis, consultation, product strategy, project management, Desktop and Server support services, disaster recovery planning, and mobile technology platform planning, implementation, support and training services to meet your vital business needs.
Mostly, you get what you pay for…
Consider the current risks to your business, and the financial impact should your network go down or your server should crash. Now ask yourself what the REAL cost is to you without qualified service technicians. When looking for computer support you can actually afford, the trick is to not buy the cheapest, but get the best service for the best price. Many high caliber service companies cost a truck load of money. In these cases your buying the Name Brand. However, you can also find service providers for pocket change. Pouring too much money into your computer needs can be as equally disastrous as not spending enough.
Your Issue Is Immediately Directed To A Specific Expert
With EvoSoft's unique three-tiered support, all issues are initially assessed by the EvoSoft RSC incident management team, and are rapidly directed to the proper tier for immediate action.
Remote Support Center - Tech Support for Small Businesses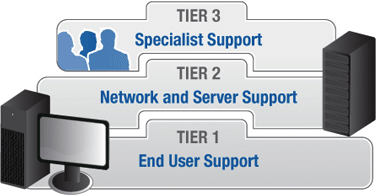 Spyware / Virus
Common Workstation Applications
Mobile device issues
Workstation Disk Cleanup & Error Resolution
Printer Issues
Exchange
Routers and Firewalls
Backups
Network Infrastructure
Domain Controllers
Remote Access
Mobile Devices
Cisco
Blackberry
Goodlink
UPS/Power Issues
Server Down or Disk Error
Advanced Networking Infrastructure
Advanced Microsoft