No need for engineer to come to site!
Let EvoSoft introduce you to our method of problem-solving that is truly extraordinary.
Our Remote Support Center is a unique remote issue resolution resource utilising a multi tiered-support structure, state-of-the-art remote management tools, and a highly experienced, dedicated team of IT specialists. Your team of dedicated remote support engineers become familiar with both your infrastructure and your end-users to create an experience that is second to none.
By combining the expertise of our helpdesk engineers with advanced remote assistance software, we are able to support, repair and maintain IT systems from a distance.
The obvious advantages of remote assistance are cost and time savings – the quicker we can resolve your problem the less impact it has on your productivity.
Your Issue Is Immediately Directed To A Specific Expert
With EvoSoft's unique three-tiered support, all issues are initially assessed by the EvoSoft RSC incident management team, and are rapidly directed to the proper tier for immediate action.
Remote Support Center - Tech Support for Small Businesses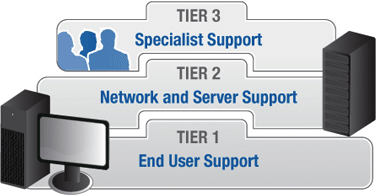 Spyware / Virus
Common Workstation Applications
Mobile device issues
Workstation Disk Cleanup & Error Resolution
Printer Issues
Exchange
Routers and Firewalls
Backups
Network Infrastructure
Domain Controllers
Remote Access
Mobile Devices
Cisco
Blackberry
Goodlink
UPS/Power Issues
Server Down or Disk Error
Advanced Networking Infrastructure
Advanced Microsoft