Only pay for the support when you need it!
Whether you're budget-conscious or you just don't want to commit to a contract, EvoSoft offers a  Pay As You Go IT Support service to suit your needs. With competitive hourly rates and billing increments of just 15 minutes, you can benefit from our reliable support services as and when you need them.
Your Issue Is Immediately Directed To A Specific Expert
With EvoSoft's unique three-tiered support, all issues are initially assessed by the EvoSoft RSC incident management team, and are rapidly directed to the proper tier for immediate action.
Remote Support Center - Tech Support for Small Businesses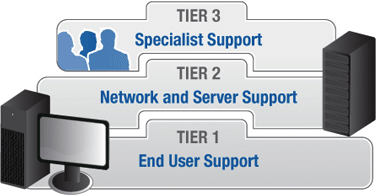 Spyware / Virus
Common Workstation Applications
Mobile device issues
Workstation Disk Cleanup & Error Resolution
Printer Issues
Exchange
Routers and Firewalls
Backups
Network Infrastructure
Domain Controllers
Remote Access
Mobile Devices
Cisco
Blackberry
Goodlink
UPS/Power Issues
Server Down or Disk Error
Advanced Networking Infrastructure
Advanced Microsoft
To discuss your Pay As You Go requirements with a knowledgeable consultant, contact us on 0800 007 3388. Alternatively, request a callback and we will be in touch ASAP.